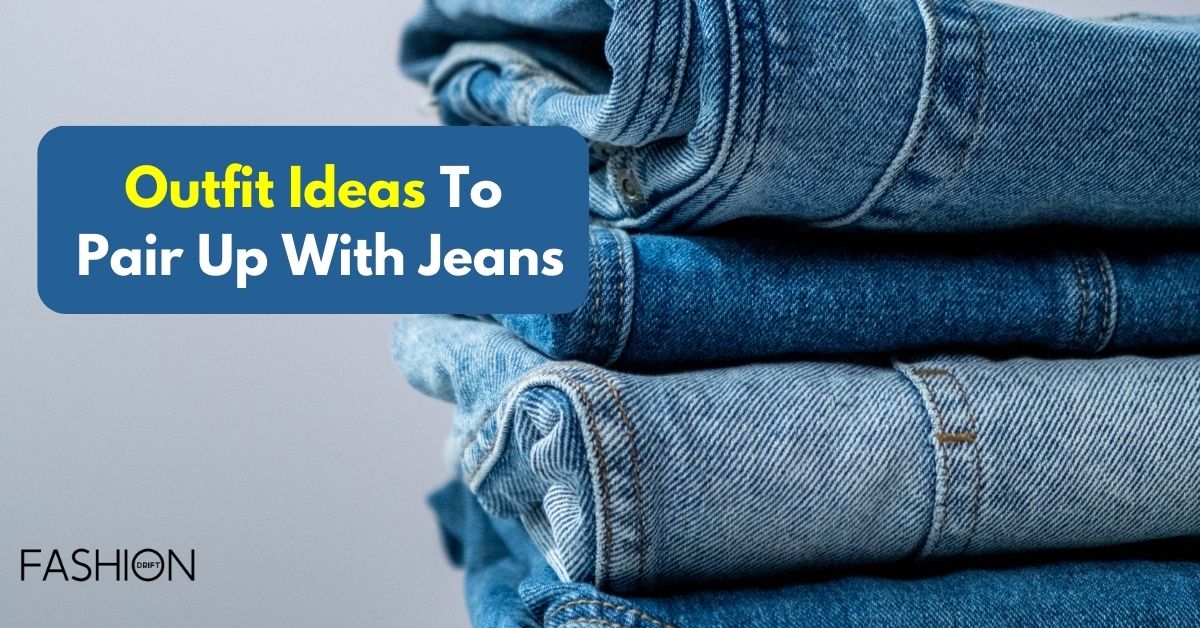 Jeans are a timeless wardrobe staple that can be easily dressed up or down. Whether you want to look casual and comfortable, or dressy and stylish, there's an outfit with jeans out there for every occasion. Here are 13 outfit ideas with jeans that will help you create the perfect ensemble. From classic skinny jeans to distressed boyfriend styles, these outfits will have you looking chic in no time! With these simple looks, you'll be able to take your denim style from day to night without missing a beat.
1. Casual Chic
A simple white tee paired with some light-washed jeans and a jean jacket can create a classic, casual chic look. Add some aviators and sneakers for a cool finish.
2. Boho Babe
For a boho-inspired look, start with dark wash flare or bootcut jeans and pair them with an oversized off-the-shoulder peasant blouse and sandals. Add some statement jewelry to complete the look.
3. Sporty Style
For those days when you want to be comfortable but still fashionable, try pairing your favorite pair of skinny jeans with an oversized hoodie, some athleisure sneakers, and a baseball cap for an effortless sporty style.
4. Bohemian Glam
For a night out, go for bohemian glam with a pair of dark-wash jeans and an airy blouse or tunic. Add some strappy heels, statement jewelry, and a clutch for the perfect finishing touches.
5. Summertime Fun
When the weather is warm, you can create a laidback but stylish look by pairing some light-wash shorts or jeggings with a crop top and sandals. Accessorize with some colorful bracelets and other jewelry to complete the ensemble.
6. Work Ready
A great way to look professional yet still stylish in jeans is to pair them with a crisp white shirt and a tailored blazer. Top off the look with some loafers or pumps and minimal jewelry.
7. Rocker Chic
If you're feeling bold, put together a rocker-inspired outfit with ripped jeans, a graphic tee, biker boots, and some layered necklaces. Finish off the look with a moto jacket for an edgy yet chic vibe.
8. Artistic Flair
Showcase your artistic side by creating a statement look with wide-leg trousers, an asymmetrical top, low boots or heels, and bold accessories like oversized sunglasses and earrings.
9. Classy Cool
For those days when you want to be comfy yet still put together, try wearing boyfriend jeans with a collared blouse or chambray shirt and some loafers. Add a scarf for an extra touch of coolness.
10. Preppy Style
For a preppy look, start with slim-fit jeans and add a fitted polo shirt and boat shoes or espadrilles. Accessorize with statement sunglasses and a watch to complete the outfit.
11. Girl Boss Vibes
Make your next business meeting memorable by pairing straight-leg trousers with a blazer, pointed-toe pumps, and minimal jewelry. Finish off the look with a classic briefcase or tote bag for an air of professionalism.
12. Denim on Denim
Find two different shades of denim and layer them for a stylish contrast. A light-washed jean jacket over a darker pair of jeans will help you stand out from the rest.
13. All Black Everything
Make any outfit instantly look sleek and sophisticated by adding some all-black pieces. An edgy leather jacket paired with black skinny jeans and ankle boots creates an effortlessly cool vibe.
These 13 outfit ideas are perfect for days when you want to rock a pair of jeans but still look fashionable. With these looks, you'll be sure to turn heads wherever you go!