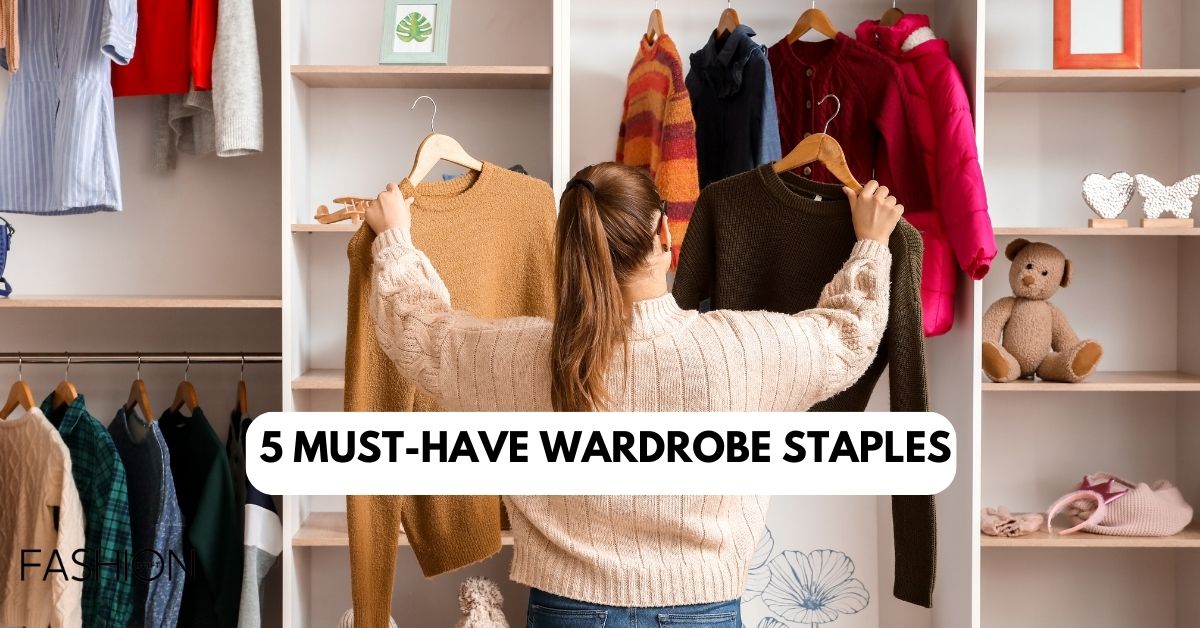 As a fashion enthusiast, are you tired of standing in front of your overflowing wardrobe, feeling overwhelmed and unsure about what to wear? Don't worry, I've got you covered!
In this blog post, I'll be sharing my top 5 must-have wardrobe staples that will keep you stylish and well-prepared for every season.
Whether you're a fashion novice or a seasoned trendsetter, these essentials will serve as the foundation for a versatile and fashionable wardrobe. So, let's dive in and discover the key pieces that will elevate your style game all year round!
Must-Have Wardrobe Staples For Every Season
The Classic White T-Shirt
There's nothing quite like the versatility and timeless appeal of a classic white t-shirt. This wardrobe staple can be dressed up or down for any occasion. Pair it with jeans and sneakers for a casual look, or tuck it into a high-waisted skirt with heels for a more polished ensemble.
Its simplicity makes it a perfect canvas for layering, allowing you to experiment with different textures and colors. Remember, investing in a high-quality white t-shirt will ensure durability and longevity, making it a true wardrobe essential.
The Perfect Pair of Jeans
Every season calls for a reliable pair of jeans that fits you like a glove. Whether it's skinny, straight-leg, or boyfriend style, finding the perfect fit is key.
Jeans can be dressed up with a blouse and heels for a night out or paired with a cozy sweater and boots for a casual weekend look. When choosing your ideal pair, consider your body type and personal style to ensure maximum comfort and confidence.
Versatile Outerwear
No matter the season, having versatile outerwear options is essential. A lightweight trench coat or a stylish leather jacket can instantly elevate any outfit while providing protection from the elements.
During colder months, invest in a well-insulated coat or a trendy puffer jacket. Layering is the key to adapting your wardrobe to changing weather conditions, so make sure your outerwear pieces are both functional and fashionable.
Little Black Dress (LBD)
The little black dress, often referred to as the LBD, is a timeless classic that deserves a special place in every wardrobe. This iconic piece can effortlessly transition from day to night, depending on how you style it.
Dress it up with statement jewelry and heels for a cocktail party or add a blazer and flats for a sophisticated office look. The LBD offers endless possibilities, making it a must-have for any fashion-conscious individual.
Do you have scarves as well? Check this article to style scarves like a pro.
Comfortable Shoes
No wardrobe is complete without comfortable and stylish footwear. Invest in a few key pairs that will see you through every season.
A pair of versatile black flats, comfortable sneakers for everyday wear, and a chic pair of ankle boots are essential additions. These shoes not only provide comfort but also complement a wide range of outfits, allowing you to effortlessly navigate different occasions and weather conditions.
Conclusion
Building a functional and stylish wardrobe is all about investing in timeless essentials that can be adapted to any season. The classic white t-shirt, perfect pair of jeans, versatile outerwear, little black dress, and comfortable shoes serve as the foundation for countless stylish outfits.
Remember, fashion is an expression of your unique personality, so don't be afraid to experiment and make these staples your own. Happy styling!